Rejuvenate your senses at Seven Oaks Bed & Breakfast!
Seven Oak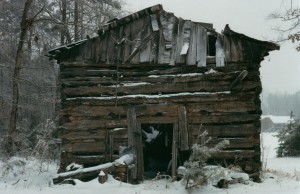 s Inn/Bed and Breakfast is situated on the outskirts of High Point, NC and on land that was originally part of a large, successful turn-of-the-century tobacco farm.  Built in 2007, the home compliments the heritage of the land and the natural life that inhabits it.  With the addition of our cottage and twin accommodations in some rooms, Seven Oaks Bed and Breakfast was reclassified as an Inn in the Fall of 2014.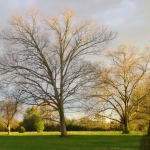 Seven Oaks was named for the large, signature oak trees located throughout the property's 4 acres.  The Barkers have embraced these trees for their beauty and grandeur.  In the olden days, the oak tree was a place of rest and relaxation for farmers and travelers that passed through this area.  Now, it's your turn to grab a chair and enjoy the shade of our signature oak tree!
Every country home has to have a front porch!  On steamy summer nights, the front porch was a favorite place for the family to cool off after a long day and enjoy the evening.  Neighbors were sure to stop by if you were sitting on the front porch!  Grab a rocking chair and close your eyes as you feel the warm sun engulf you.  Enjoy the view from the porch as you watch the antics of Gordon the Groundhog or the many birds (hummingbirds, hawks, cardinals, bluebirds, and others) that call Seven Oaks home.  Sometimes, an occasional deer or fox can be spotted grazing in the field.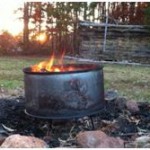 At sundown on Saturday evenings, our guests enjoy relaxing around Seven Oaks' fire pit.  As the flames dance for you and warm your weary soul, your eyes can search the sky for your favorite constellation or look for the man in the moon!  Listen for the chirping crickets or the croaking frogs as you are engulfed by the calmness of the world around you.
If you prefer to sit inside, you don't have to feel restricted to your room.  Seven Oaks' great room offers comfortable seating with recliners, a large-screened television for watching your favorite show or sporting event, books, magazines, and games or puzzles for your enjoyment.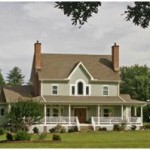 Wi-Fi is also available throughout the property so you can put the finishing touches on that presentation or check your e-mail.   No matter where you choose to relax on Seven Oaks' property, you are sure to leave refreshed and ready to face the world again!
The open floor plan of the house and spacious field makes Seven Oaks a perfect location for your corporate meeting, graduation party, wedding festivities, or other intimate affairs.  Call today for pricing and availability!
833 Old Mill Road, High Point, NC 27265         (336) 899-6257          sevenoaks@triad.rr.com