Our common spaces offer:
~ a nonsmoking facility (designated spaces away from the house can be made available)
~ open floorplan adorned by hardwood floors with rugs and simple, comfortable funishings
~ a breakfast nook, dining room, or the large front porch to enjoy your healthy breakfast
~ two water heaters that service the home, providing adequate hot water for our guests
~ free Wi-fi Internet throughout the property and in the Cottage
~ ample parking next to the home and at the Cottage
~ usage of nonallergy-based, nature-friendly cleaning products
~ clean, spacious rooms with comfortable furnishings
~ 3 porches at the Main house, to include a large, inviting wraparound front porch; covered porches at the Cottage
~ plenty of acreage for you to take a stroll to enjoy nature
~ a quiet, relaxing and stress-free atmosphere
            __________________________________________________________________________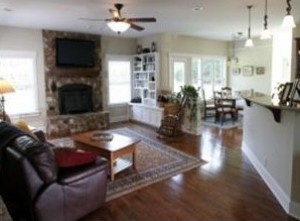 Cozy furnishings in the Great Room help you unwind — Enjoy a warm fire from the woodburning stove on a cold winter's evening.  Watch your favorite show on the 50″ television screen, read a good book from our library, or visit with family or friends — however you choose to relax and enjoy your stay!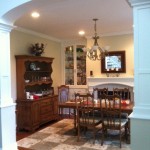 The dining room has a gas log fireplace that adds an inviting ambiance to your morning meal.  Enjoy the view as you look out the bay window across the field while you enjoy your hot, healthy breakfast with plenty of juice and coffee.  You may catch a glimpse of Gordon the Groundhog or our resident deer eating their morning meal!
Be sure to grab a rocking chair on the wraparound front porch for a nap as the warmth of the sun dances across your face.  Close your eyes and feel the gentle breeze or listen to the birds as they sing you a song.  Enjoy a sunset as the fire glows in the fire pit and roast a marshmellow or two.  You may even see an occasional deer grazing in the shadows of the mighty oaks!
Looking for comfort . . . relaxation . . . privacy?  Seven Oaks Inn/Bed and  Breakfast is waiting for you!  
833 Old Mill Road, High Point, NC 27265          (336) 899-6257           sevenoaks@triad.rr.com